Go back
The Speaker is in the House
Posted on: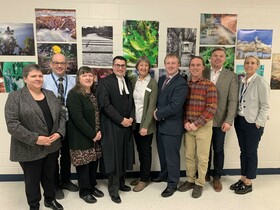 On Monday, February 3, 2020, Grade 6 students at Ecole Mountain View School in Hinton were honoured to learn more about the Alberta provincial government through a visit from the Honourable Nathan Cooper, Speaker of the House and MLA for Olds-Didsbury-Three Hills. The Alberta Grade 6 social studies program focuses on citizenship, learning about the democratic process, and how to be involved in one's community. Speaker Cooper shared key messages that included: 
get involved in matters that are important; 

write letters; 

sign petitions; 

attend events; and

politics is about helping others. 
He concluded the visit by encouraging the students to participate in making their community better. MLA for West Yellowhead, Martin Long and Hinton Deputy Mayor, Dewly Nelson, joined the Speaker in his visit to the school. Also in attendance were Hinton school trustees Shirley Caputo and Ellen Aust, and Grande Yellowhead Public School Divisions Acting Assistant Superintendents' Kelly Smith and Kelly Harding.